MARUBENI INTRODUCTION
Marubeni Corporation is the Japanese trading company, which was founded in 1858. Marubeni Corporation and its consolidated subsidiaries use their broad business networks, both within Japan and overseas, to conduct importing and exporting (including third country trading), as well as domestic business, encompassing a diverse range of business activities across wide-ranging fields including lifestyle, ICT & real estate business, forest products, food, agri business, chemicals, power business, energy, metals & mineral resources, plant, aerospace & ship, finance & leasing business, construction, auto & industrial machinery, and next generation business development. Additionally, the Marubeni Group offers a variety of services, makes internal and external investments, and is involved in resource development throughout all of the above industries.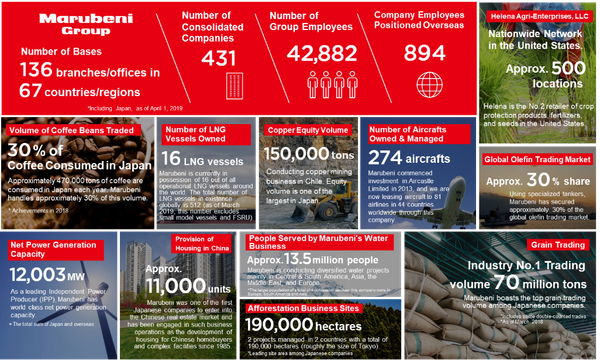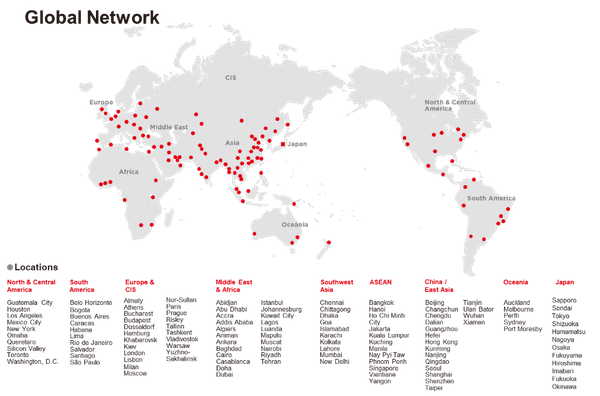 OUR STRENGTH IN POWER BUSINESS DIVISION
1. Top Class Global IPP Portfolio with Rich Sales & Marketing Knowledge, Worldwide Strongholds for Project Development & Asset Management
In the power generation business, Marubeni delivers a safe & stable supply of power by taking a leading role throughout the entirety of the projects in which it participates; from the development stage, to construction, and finally operation & maintenance, Marubeni leverages its industry expertise, fostered by a wealth of knowledge and experience in EPC and Project Finance, and fully supported by a worldwide network of strongholds for project development & asset management. Marubeni has built an optimum IPP/IWPP asset-portfolio in a diverse range of fields and across many regions of the world, most of which are guaranteed under long-term PPA contracts which provide a stable profit foundation. In more than 20 countries around the world, our total net generation capacity is 12,003MW (as of the end of March 2019) which is a comparable scale to the international leading IPP players.
2. A Robust Track Record of Overseas Power EPC Projects & Unique EPC Contract Knowledge and Experience
Since Marubeni began the supply and construction of overseas power projects in the 1960s, we have proactively engaged with Japanese and multi-national major equipment manufacturers, and compiled a robust track record of power generation, T&D and S/S EPC projects all over the world. Such expertise as an EPC contractor creates a synergy-effect with IPP/IWPP development. Furthermore, in the offshore wind turbine installation business, we are planning an expansion into the Asian market in addition to our existing bases of operation in Europe.
3. Extensive Experience in Power Aggregation and Retail
Through SmartestEnergy Ltd., a company established in the U.K. in 2001, we are conducting the aggregation/whole-procurement and retail sale of primarily renewably generated power to the U.K. power market. Furthermore, in 2000 when the Japanese domestic power retail market became deregulated, Marubeni established Marubeni Power Retail Corporation as a PPS (Power Producer and Supplier) and entered the market. This allowed Marubeni to, among other things, internally balance the supply and demand of power retail sales through power sourced from Marubeni-owned plants. Marubeni has thus accumulated ample skill in supply and demand management, and has an impressive track record of power projects.
4. Promoting Community-Based Power & Power Servicing Businesses to Support the Resolution of Regional Social Subjects
Marubeni promotes community-based power businesses in regions of Africa that do not yet have access to electricity through our business with WASSHA Inc, a company which uses solar panels and chargeable lanterns to supply portable power to various regions of Tanzania, where roughly 76% of the population is still without access to electricity. Furthermore, as we have become aware of growing interest in the idea of energy autonomy through renewable energy and de-centralized power sources, we have established Marubeni Ina Mirai Denki Corporation, a new company in Ina City, Nagano, Japan, which provides lifestyle services centered on power retailing and local needs. Moving forward, we will expand a multitude of power and service businesses that will assist in the development of regional societies.
COMPANY PROFILE
| | |
| --- | --- |
| Company Name | Marubeni Corporation |
| Founded | May 1858 |
| Incorporated | December 1, 1949 |
| President and CEO | Masumi Kakinoki |
| Paid-in Capital | JPY 262,686 million |
| Head Office | Tokyo, Japan |
| Number of Branches and Offices (Including Tokyo Head Office)* | 137 branches and offices in 67 countries and regions, consisting of 12 Japan branches and offices, 57 overseas branches and offices, and 29 overseas corporate subsidiaries containing 39 branches and offices. |
| Number of Employees** | 4,453 (Excluding 438 local employees of overseas branches and offices and 1,477 local employees of overseas corporate subsidiaries) |
(As of April 1, 2019, except * as of October 1, 2019, ** as of September 30, 2019)