On March 24th, 2019, Nghi Son 2 Power Limited Liability Company ("NS2PC") collaborated with Women's Union, the local healthcare station and the secondary school of Hai Ha Commune to organize the clean-up program in Hai Ha Commune, Tinh Gia District in Thanh Hoa Province under Corporate Social Responsibility Program ("CSR Program"). NS2PC supported the preparation of rubbish bins, rakes, shovel and common uniform and caps for the participants.
Through implementing this program, NS2PC aims at improving health condition of local people, enhancing awareness of the sanitation and activating the local communities' activity. This is 2nd clean-up program followed by 1st clean-up program in last October. We raised as the common slogan "Launching Ceremony of environmental sanitation to control dengue epidemic at Hai Ha Commune" as the result of the consultation with the participants.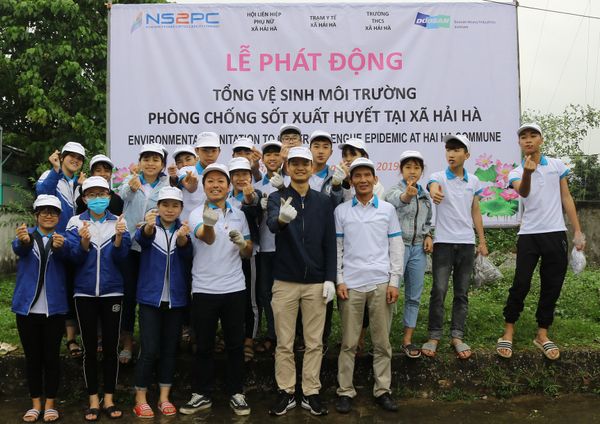 The weather was not favorable on the day. However, under such condition, around 110 participants (including the representatives of Hai Ha Party Committee, Hai Ha Commune People's Committee, Hai Ha Fatherland Front Committee, Secretary, the Heads of 8 villages in Hai Ha Commune and Doosan Heavy Industry Vietnam (EPC Contractor of NS2PC) in addition to the above parties NS2PC collaborated with) gathered at the cultural house of one village in Hai Ha Commune at 8am.The participants intensively implemented the clean-up program together at the main roads and the market area where local people frequently use daily, and achieved the program successfully. This is the first time the secondary school students joined this program, but they fully enjoyed co-working with NS2PC in seeing their town cleaner through this program and also in conversation in Vietnamese and English. NS2PC displays photos on NS2PC's public notice board at Hai Ha Commune as nice memory of the local communities' activity.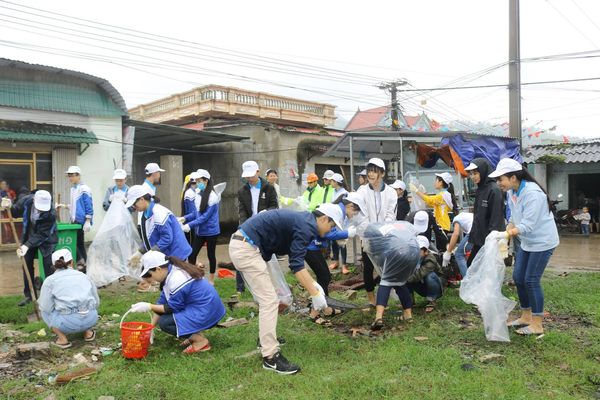 At the Opening Ceremony, Mrs. Le Thi Ha - Chairwoman of Hai Ha Women's Union emphasized the role of women in clean-up activity at the residential areas. She highly appreciated to the support of the participated parties, especially NS2PC about the equipment arrangement to implement the program successfully for making Hai Ha Commune cleaner.
Mr. Yuji Otsuka – G&A Director of NS2PC expressed "As a company located in Hai Ha Commune, NS2PC has been implementing CSR Programs to support Hai Ha Commune's community development. Clean water installation and environmental sanitation, which is implementing in Hai Ha commune is one of them. Let's work together for cleaning up our Town, Hai Ha Commune!"NS2PC will work with Hai Ha Commune Women's Union and the related parties to continue implementing this Program sustainably.